Design your own paracord survival bracelet with a custom Dog Tag, handmade for $39.99!

Custom made to your wrist size, each inch of Black or Green braided bracelet is equivalent to about 1 foot of paracord which can be unraveled in an emergency.
A stainless steel or brass Dog Tag with your personal, medical, or emergency contact information is braided directly into the paracord weave, so it will never fall out.
The ergonomic curved buckle contains a number of useful survival tools: a whistle for scaring off wild animals or alerting search and rescue, a directional compass for navigation and orienteering, a mischmetal flint for firestarting, and a scraper for striking the flint or cutting.
Add 4 days to delivery time since we make each bracelet to order as per your wrist circumference.
See what our other satisfied customers have been saying!
Paracord Bracelet set includes:
1 x Military grade embossed Dogtag
1 x Cobra weave Paracord bracelet custom made to your wrist size
1 x Clasp with integrated whistle, firestarter, and compass
Personalize your Paracord Bracelet and see a preview of what they will look like before ordering. Not sure how to design your tags? Use one of these Paracord Bracelet layouts or suggestions to get started:
About Dog Tags from MyDogtag.com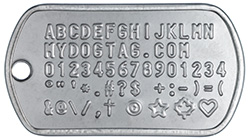 At MyDogtag.com, we provide premium quality Personalized Military Dog Tags for sale that will last a lifetime. They are completely customizable so you can easily order G.I. replica Dog Tags as per military specs, or use your own design for any other use or occasion. The tag starts as a blank canvas, what you put on it is entirely your choice... you aren't obligated to put official Military Dog Tag info on it. You also get to see a preview of what your finished Dog Tag set will look like before you even order it! We can even laser engrave your custom logo or image!

All orders are shipped within 1 business day and are usually delivered within 1 week (in North America). If you need any assistance creating or ordering your Paracord Bracelet please contact us directly, we are here to help!
See what our other satisfied customers have been saying!