Dogtags make great bridal souvenirs and wedding favors, especially for military themed weddings!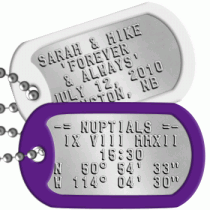 Perfect for recognizing and thanking members of your groomsmen bridal party, or as wedding favors for each of your guests.
We also offer bulk discounts when you need tags for lots of people!
Wedding Dog Tags set includes:
2 x Military grade embossed Dogtags in assorted metals & colors.
2 x Stainless Steel Ballchains or alternative fasteners
2 x Rubber Silencers in assorted colors and camo patterns
Get started personalizing your Wedding Dog Tags and see what they look like online before ordering.
Not sure what to put on your tags? We have lots of ideas to get you started:
More Info About Wedding Dog Tags
About our Dog Tags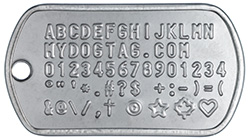 At MyDogtag.com, our goal is to provide the best quality dog tags and service for our customers. Our mil-spec dog tags are stainless steel military specification which means they will last a lifetime, and we offer a variety of materials and colors to choose from. Because our dog tags are completely customizable, you can create any type of dog tag that you need! Not looking for Wedding Dog Tags? No problem! We make dogtags for all sorts of reasons, occasions and fashion such as Military Dog Tags, Relationship Tags, Pet ID Dogtags, Military Family Dogtag, Medical ID Tags, Statement Dog Tags, Braille Dog Tags & Signs, Gear I.D. Dog Tags, Sports Dog Tags, Paracord Bracelet, Leather Cuff Dogtag, Signs & Nameplates, Costume Dog Tags, Memorial Dog Tags, MilSim Dog Tags, Christian Dog Tags, Marijuana Dog Tags, Gamer & Geek Tags, Special Occasion Tags, Stag Party Dog Tags, Wedding Dog Tags, HipHop Bling Tags, Christmas Dog Tags, Naughty Dog Tags, …whatever you want to put on a dog tag, we can make it!
Preview your Wedding Dog Tags before ordering with our online Dog Tag generator. Choose your font and dog tag style, write your custom message, choose your chains, silencers, and gift packaging and then see what your finished dog tag set will look like when it's printed. Be sure to proof-read your information carefully!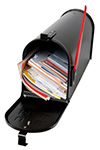 All orders are shipped within 1 business day. If you place your order before 10:00 EST, we can often ship your dog tags on the same day and most of our customers receive their orders within one week. If you need any assistance creating or ordering your Wedding Dog Tags please contact us directly. We would love to help!
Still have questions? Please see our FAQ: