Dogtags are part of the myths of many popular comic book and movie characters and superheroes. They make great additions to any fan collection or as a cosplay or Halloween costume prop accessory!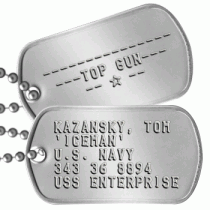 We can put any text you want on your character dogtag. If you need help designing it, do a Google image search for your favorite movie character or superhero to see what his dogtag looks like then just duplicate the text into our custom Dogtag Generator! Popular dogtag designs include Wolverine, Wade Wilson, Captain America, The Comedian, Top Gun, and M*A*S*H.
Costume Dogtags set includes:
See your Costume Dogtags before ordering with the online dogtag generator!
Click on a tag idea below to use as a template for creating your own!