Whether you are a soldier of fortune or a curbside commando, our authentic US military style dogtags are a required accessory for your next mission!
Available in modern embossed standard-issue, debossed with an optional WWII notch, or laser engraved Canadian Identity Discs!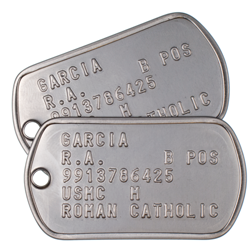 Military Dogtags set includes:
See your Military Dogtags before ordering with the online dogtag generator!
Click on a tag idea below to use as a template for creating your own!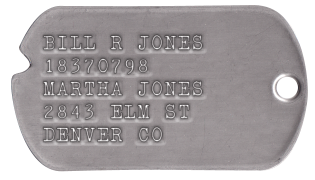 customize now
$
9.99
Notched WWII Style Dogtags

Classic vintage dogtags from WWII, Korea, and Vietname war era with debossed text and notch.


First Name, Initial, Surname
Serial #, tetanus, toxoid, blood
Next of Kin
Address next of kin
Address, Religion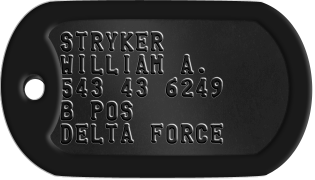 customize now
$
9.99
Special Forces Dogtags

Black dogtags are used by Special Operations forces such as the Army Rangers, Navy Seals, Green Berets, Commandos, and Delta Force.



Navy Dogtags
Other used these ideas:
Air Force Dogtags
Other used these ideas:
Marines Dogtags

Surname
First Name, Initial (sometimes just first and last initial), Blood Group
Social Security Number (no dashes, but spaced)
Branch ('USMC') and gas mask size
Religion (or NO PREFERENCE)


The USMC Logo pendant makes a great accessory for this dogtag.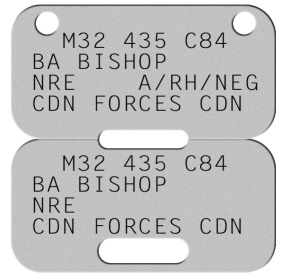 customize now
$
14.99
See official specs

Service Number
Initials and Surname
& Blood Group
'CDN FORCES CDN'


Our Canadian style dogtags are Laser Engraved using the same Fiber Laser that is now used by the Canadian armed Forces. It creates a modern looking, dark and deep impression that will not wear down or rub off.

Canadianized American Dogtags

Want American style embossed dogtags with Canadian spirit? You can fit the same identity information across 2 American dogtags and you can add an optional embossed maple leaf and choose our unique red and white silencers!



Is one of your relatives in the military? Support your solider with a Military Family Dogtag.