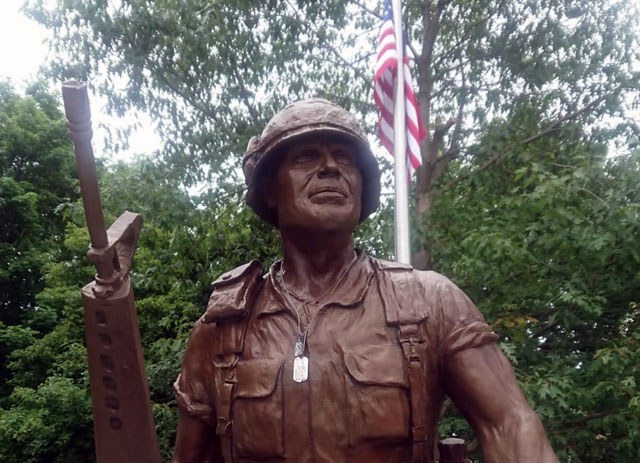 MyDogTag.com supports our military community by actively sponsoring Military, Veteran, and P.T.S.D. charities and organizations with free Dog Tags, often in memory and support of deceased and injured veterans and their families.
If you run a related charity and would like to use Dog Tags to help make your event more memorable please Contact Us with a proposal if you feel our Dog Tags would be a good fit.
Please visit some of these fantastic organizations which we have contributed to over the years to see how they make a difference.
Veterans Day 2023
Honoring veterans who have lost their vision with Braille Dogtags.
The Flak Foundation is non-profit aimed at addressing and helping veterans with depression, anxiety, addiction, and suicide.
New Jersey Vietnam Veterans Memorial Christmas Tree with 1,563 dogtags honoring the fallen.
Every fallen Patriot should be toasted by name, lest we forget.
Uniting and empowering Veterans through activity and adventure.
Adopt-A-Vet is a Canadian based organization whose mission is to ensure that veterans do not feel left alone and un-appreciated, especially over the holidays
The Tennessee Veterans Museum, at Sykes Funeral home in Clarkesville TN showcases military memorabilia and highlights veterans from Tennessee and Kentucky.
Located in Mohall, ND, a memorial honoring deceased veterans from the Civil War, Spanish American War, World War I & II, Korean War and Vietnam War.
The Vietnam Moving Wall is the half-size replica of the Washington, DC Vietnam Veterans Memorial and has been touring the country for thirty plus years.
The 9/11 run is to honor those who lost their lives in the September 11th, 2001 terror attacks, as well as Local First Responders and Veterans.
The mission of BackaHero.Today is to lend a helping hand to local heroes when the need arises. Soldiers, police officers, firefighters, emergency medical responders, moms, dads, and children can be everyday heroes when they live a life of sacrifice to serve others.
The Daniel K Stein Mission is to Raise Awareness of Combat PTSD and TBI through Unity, Leadership, and Advocacy.– One Family at a Time.
Veteran Jam's Annual 5K Race Against PTSD is held to promote awareness of Post traumatic stress amongst our veterans and the overwhelming suicide rates surrounding them.
Motorcycle Relief Project is a 501(c)3 nonprofit organization that provides relief to veterans and first responders with PTSD and other related issues by taking them on structured and professionally-led dual-sport motorcycle adventures.
Dog Tag Inc. seeks to build a bridge to business employment and a productive civilian life for the veterans and military families that have served our country so well
The Flaughless 5K is a memorial Walk/Run, for the benefit of the Wounded Warrior Project in memory of Dan Flaugh, a former US Army soldier who served in Baghdad, Iraq, passed away in December 2011 at the age of 25.
Ste. Anne's Hospital Foundation is a charitable organization which supports the well-being of Canadian Veterans.