Be proud of the soldier in your family!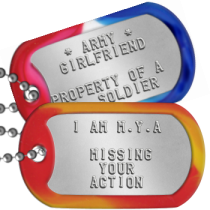 Whether you're an Army Wife or a Military Brat, show your support with a set a of military style dogtags. Put the text SUPPORT OUR TROOPS on one of your dogtags and get a 25% discount!
Do you have a soldier in your family? Are you looking for a way to display your pride for your military family member? Wearing your own set of custom Dog Tags is a wonderful way to show your support for their service. Our Dog Tags are perfect for a military wife, girlfriend, mother, daughter, partner, and more. Design a set of two Dog Tags with any text that you want. Wear them together, give one to your military loved one, put one on a keychain -- there are plenty of options for how you can use your uniquely designed set of two Dog Tags.
We are proud to support Blue Star Families, ⭐ Gold Star Families, and ☆ White Star Families.
See what our satisfied customers have been saying about our Military Family Dogtags!
Military Family Dogtags set includes:
2 x Personalized Dog Tags in your choice of metal & color
2 x Ballchains or alternative fasteners
2 x Rubber Silencers in assorted colors and camo patterns
Personalize your Military Family Dogtags and see a preview of what they will look like before ordering. Not sure how to design your tags? Use one of these Military Family Dogtags layouts or suggestions to get started:
Military Family Dogtags Accessories
Other products related to Military Family Dogtags:
More About Military Family Dogtags
Honor those who serve
Although Dog Tags originally started out as a way to identify soldiers, today many wives wear them in honor of their servicemen, both at home and deployed. These Dog Tags are anything but plain. You can design a message and style that fits your personality as a military wife. Because you can customize your Dog Tags with your choice of rubber silencer in a wide variety of colors and patterns, they can be a great accessory to an outfit.
Gift for Military Moms
Are you searching for a gift for a military mom, wife, girlfriend or other family member? Military Dog Tags are a great gift idea.
What are the military Dog Tag specs?
Need help on how to format your dogtags according to military specifications? See our official military dogtag example templates.
About Dog Tags from MyDogtag.com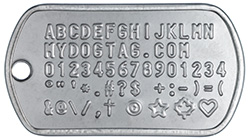 At MyDogtag.com, we provide premium quality Personalized Military Dog Tags for sale that will last a lifetime. They are completely customizable so you can easily order G.I. replica Dog Tags as per military specs, or use your own design for any other use or occasion. The tag starts as a blank canvas, what you put on it is entirely your choice... you aren't obligated to put official Military Dog Tag info on it. You also get to see a preview of what your finished Dog Tag set will look like before you even order it! We can even laser engrave your custom logo or image!

All orders are shipped within 1 business day and are usually delivered within 1 week (in North America). If you need any assistance creating or ordering your Military Family Dogtags please contact us directly, we are here to help!
See what our other satisfied customers have been saying!