All Dogtags on this page are sold as individual 'blanks' without any custom embossing, chain, or silencer. We have the largest selection of Dog Tag styles, materials and colors to choose from, most of them based on military specifications with rolled edges and either modern Embossed raised lettering, or vintage WWII style Debossed lettering. If you would like to order a complete set with custom embossing, chains, and silencers for an additional fee, click the Customize button.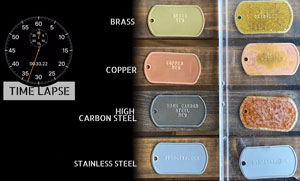 Our
Mil-Spec 304 Stainless Steel
tags will NOT rust, even in harsh acidic environments like seawater, whereas our
brass
and
copper
tags will oxidize and tarnish over time giving them a vintage type look also known as a patina effect. This oxidation occurs naturally and is an invited characteristic of copper and brass dog tags. Our
High-Carbon tags
will rust quickly, even just out in the air giving an aged antiquated battle-worn look. See our irreverent video on how different Dog Tag metals
stand-up to acidic salt water
.
If you are looking for a dogtag for a costume or for testing and don't care what is actually on the tag itself, you can purchase our
misprinted dogtags
at a discount. These dogtags may have been made as samples, printed crooked, bent, scratched, or have some other type of manufacturing defect. The misprint tag may be embossed, debossed or blank and does not come with a silencer or chain. We do NOT select misprinted tags with personal information on them.
Cited from Misprint Dogtags
Ready to browse? Jump to a Blank Tags & Plates subcategory:
These dogtags conform to various USA military specifications.
Dog Tag replicas from historical eras.
In addition to American military dogtags, we also offer Canadian ID Disc and British Armed Forces Identity discs.
Surface-mount tags Ideal for Industrial machines, vehicle V.I.N.s, aircraft, signage, braille, instructions, and for identification of cables, hydraulic hoses, raw materials, works in process, and finished goods. Our identification plates and tags provide durable solutions for identification and traceability requirements in harsh environments. Our plates and tags are manufactured to ISO standards, using DFARS compliant material, to ensure the highest quality product. Metal plate embossing is the only permanent method of marking that will withstand tarnish, paint, corrosion and environmental damage.
Our photo dogtags are made of Stainless Steel with a Matte Finish. The entire surface is laser burnished with a photo to provide a fun background for your custom embossed text. We also offer the option to add your own custom image to a Dog Tag.
Our Sports Dog Tags are made of anodized aluminum with a matte finish and stamped with an image of either a half basketball or football.