Make a statement! Profess your loves, leanings, beliefs, skills, hobbies, political affiliation, profession, or philosophical musings.
Personalize your Statement Dog Tags and see a preview of what they will look like before ordering. Not sure how to design your tags? Use one of these Statement Dog Tags layouts or suggestions to get started:
More About Statement Dog Tags
At MyDogtag.com we support individual liberty including freedom of speech, choice, religion, orientation, etc. This ideas page includes a spectrum of ideologies some of which you may not agree with, nevertheless we support your right to voice your opinion! More importantly is that we will make your Dog Tags HOWEVER you design them, we DO NOT censor any words or expressions of thought. We encourage you to choose from an idea above or to create your own without prejudice!
Add Charms to Your Dog Tags
We sell a lot more than just custom Dog Tags. When you place your Dog Tag order, consider adding a pendant or charm that adds extra meaning to the message on your tags. You might add a Crucifix, or the Star of David. If you are in the military, you might add a pendant that represents your branch of the armed forces. We also sell other fun and unique charms like Claws and stone arrowheads.
About Dog Tags from MyDogtag.com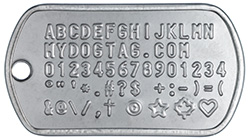 At MyDogtag.com, we provide premium quality Personalized Military Dog Tags for sale that will last a lifetime. They are completely customizable so you can easily order G.I. replica Dog Tags as per military specs, or use your own design for any other use or occasion. The tag starts as a blank canvas, what you put on it is entirely your choice... you aren't obligated to put official Military Dog Tag info on it. You also get to see a preview of what your finished Dog Tag set will look like before you even order it! We can even laser engrave your custom logo or image!

All orders are shipped within 1 business day and are usually delivered within 1 week (in North America). If you need any assistance creating or ordering your Statement Dog Tags please contact us directly, we are here to help!
See what our other satisfied customers have been saying!