Please email us at orders@mydogtag.com to inquire about any of our affiliate or cross-promotional marketing opportunities.
Affiliate Marketing Program $$$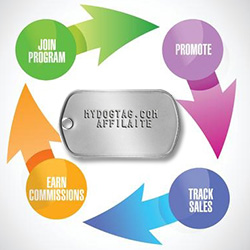 Become an affiliate marketer for MyDogtag.com and make some 💰! There are hundreds of uses for dogtags which can be marketed towards many niches... military, pet owners, gamers, survivalists, medical, sports teams, boyfriend/girlfriend, etc.
As an affiliate we offer you:
A 10% commission to you on the sale of all customized Dotags and other products on our website using your own custom coupon code or

dogtag keyword

.
A 10% discount to your friends or users who use your coupon code or

dogtag keyword

.
Payout to you via PayPal when you reach USD$100
Plus, we will send you a code to order a free set of Dogtags for yourself so you can see the quality of our product first-hand!
This is Win-Win-Win for everyone! Your friends and users will love you for it and you can make some money with little effort.
We use a reliable third-party affiliate tracker at www.affiliatly.com that does all the link and coupon tracking for us. You will get paid for any sales that you bring us via your customizable coupon code or dogtag keyword that your users submit on our website before paying. After you register you will have access to your own panel, where you can view your commission.
We will even create you your own customized gift certificate which you can post online or print and distribute to people.
Ready to make $$$?...Sign up Now!
FREE eCommerce Cross Promotions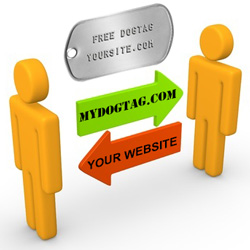 We offer a number of ways to cross-promote your product or website with MyDogtag.com at no cost to you:
Entice your site visitors to subscribe, sign-up, or buy your products with a FREE Dogtag branded with your site.
Offer your members or visitors a permanent discount to MyDogtag.com with your own branded coupon code or special dogtag keyword.
Create a contest giveaway with our custom Gift Certificates.
FREE Dogtags for Product Review
If you run an active website, blog, gift idea, product review, box-opening site or Youtube channel that caters to a similar audience as MyDogtag.com we would be pleased to send you a FREE evaluation set of dogtags for review.
FREE Photographer Photoshoot Dogtag Set
Are you an amateur or professional photographer with a interest in shooting dogtags? If you share your photographs with us and on social media we would be pleased to send you some FREE dogtags and related items for your shoot. We prefer "action" shots with dogtags being worn by people or being used in unique situations. Please email orders@mydogtag.com and include some of your work or a link to your portfolio website.
In exchange for the dogtags we request royalty-free web-sized copies of at least 2 photographs for use on our website and facebook page. If we use your photos we will credit you with a link back to your portfolio.
Link to us by either creating your own dogtag image using the Dogtag Generator or use one of the following link templates. We can link back to you via a high quality relevant link into an appropriate dogtag idea section
Large Banner
Medium Banner
Large Dogtag
Medium Dogtag
Small Dogtag
Dogtags on Chains
Text Link
Social Media
Similar to "tweeting" or "facebook posting" and article or phrase, now you can make it appear on a dogtag!
Promo Card
Download a Hi-Res PDF of our promo card with 10% discount to print and give away!
Custom Template
For advanced webmasters we suggest that you preconfigure a custom dogtag generator template for your website users so that when they click on our banner they will see dogtags on our site that you have already created for them! You can even set a discount promo code (if you pre-arrange it with us first).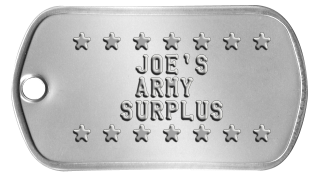 Simply create your dogtags on the dogtag generator page and then click the "TinyURL" button
.
You can then copy and paste this link code into your own website.
Please note that if you are using an image created by the dogtag generator on a commercial website it must be hyperlinked back to www.mydogtag.com.