These stickers are designed to be affixed to the backside of your Dog Tags for enhancing their style, design, significance, or functionality. They can also be applied to the front side of an unembossed blank Dog tag. Stickers are sold individually.
Ready to browse? Jump to a Dog Tag Stickers subcategory:
Our unofficial military service ribbon Dog Tag stickers are intended as a way for veterans to show with pride the campaigns and branches they have served in.
More Info About Dog Tag Stickers
Our Dog Tag stickers will not adhere very well to the backside of Debossed Dog Tags since the surface is not smooth. They are intended for use only on modern embossed, laser engraved, or blank tags. Do you have some suggestion for different Dog Tag sticker ideas? Please let us know.
Military Decals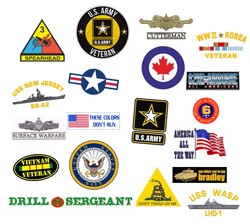 We also carry assorted military themed decals for sticking to vehicles, windows, laptops, tool-boxes, etc.