Are you making Dog Tags for crab-traps, a membership system, or industrial infrastructure tagging? Do you need to be able to automatically add a sequential number to each of your tags? Try our Serialization option and save yourself the hassle of manually updating each tag in your set!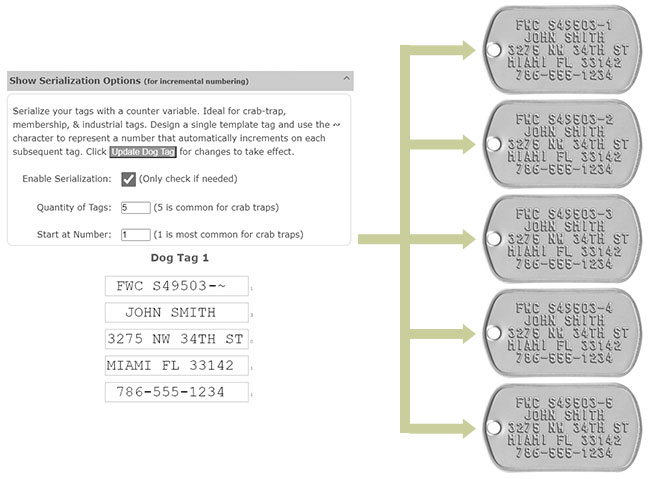 Follow these steps to create a series of sequential tags:
Under Show Serialization Options heading, click the checkbox to enable the serialization feature and set the Total Quantity and Starting Number. Then click the Update button.
Design a single template tag with your required information, and wherever you need to include the incremental number just replace it with a special counter variable represented by the tilde character ~.
Choose an appropriate tag style, font, fastener, silencers, and other optionals as per your preferences or requirements.
Click the Update again to see the results. Only the first tag will be shown in the preview on this page.
When you are happy with your design click Buy Now/Add to Cart and the remaining tags will be automatically sequentialized and created in the cart. Any accessories chosen with the template tag will also be included for each tag.
🦀 If you are looking to make Crab Trap tags take a look at our Florida Wildlife Commission Crab Trap tags Template.