Make your own custom Dog tag sets choosing from a wide range of options. Need help getting started? Click on one of the dog tag categories to get some ideas.
If you don't need any help with what to put on your dog tags you can jump directly to choosing a Dog Tag style to start designing it.
Need a unique low-cost gift in a hurry? Want to let your gift recipient customize his own Dogtags? A Gift Certificate is an ideal option!
Make Your Own Custom Dog Tags
Whether you are buying custom dog tags to use as pet tags, nameplates, id tags, or as military dog tags you can fully customize your order.
Dog tags are typically sold as a set with two tags, fasteners, and silencers and you can personalize each aspect of your order how you like.
Let's take a quick look at the main things you can personalize:
Tag Style
Font Choices
The Text
Dog Tag Silencers
Ball Chains and Fasteners
Tag Style
Start by picking the style of dog tag that you want. The bestseller standard US military issued dog tag is made of stainless steel and has a matte finish to it.
Stainless steel dog tags are an excellent choice for durability and resistance to rust and this style of tag can be used for almost any purpose.
You can pick from many different styles like vintage notched, shiny, brass, black, bone, anodized aluminum, large id tags and nameplates, and medical tags.
We also offer tags with background images laser burnished on them which you can them emboss your text on top of.
For pet id tags bone dog id tags are commonly used but you have more options like a military dog tag in standard or mini size.
All of our tag stock are high quality metal with most being stainless steel.
Font Choices
At MyDogTag you can choose from:
Embossed
Debossed
Laser engraving
Braille
Large Embossed
The tag style that you pick will determine which fonts are available to use with that tag.
Embossed is where the letters are raised above the face of the tags, like on a credit card. It is very durable and easy to read.
Debossed is an older style of font where the text is pressed down into the tag. If you are recreating dog tags for a veteran you may want to use this font.
My Dog Tag is the only manufacturer of machine made dog tags to offer Braille on tags and nameplates. You can also combine Braille with regular embossed characters on the same id tag. There are easy to use buttons to add letters and numbers in Braille. You can also create your own 6 dot cell.
Laser engraving makes very clear text and unlike embossed, debossed and Braille does not show on the other side of the tag. Another big option with laser engraving is that you can also use images.
Large Embossed is a larger version of the embossed and makes a great choice for reading tags at a distance.
The Text
This is where you can really personalize your dog tags with the information you want it to have. With embossed font you can use letters from A to Z, numbers from 0 to 9, lots of punctuation and a selection of icons.
The number of lines and how many characters you can use varies based on the tag style you pick.
If you need to add an image or special font on your dogtag, we offer a Laser Engraved Dog Tags option.
Dog Tag Silencers
Silencers are a great way to personalize your tags. There are many colors patterns to choose from including solid colors, multi-colored, glow in the dark, and camo patterns that match your service branch or your style.
Silencers come in silicone or latex to best fit your needs.
Ball Chains and Fasteners
Military dog tags typically come with two stainless steel ball chains, one long and one short. For each of your tags you can switch these chains and choose from chains of different metallic finishes, colors, or leather cords in both lengths.
You can also pick a different type of fastener for how you want to use your tags beyond being a dog tag necklace.
Use split keyrings to attach your custom pet id tag to their dog collar or to add a name tag to your key chains. Rivets or screws to attach nameplates to equipment.
Be sure to check out the other options for more ideas.
About Dog Tags from MyDogtag.com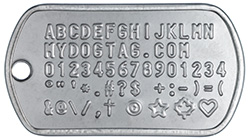 At MyDogtag.com, we provide premium quality Personalized Military Dog Tags for sale that will last a lifetime. They are completely customizable so you can easily order G.I. replica Dog Tags as per military specs, or use your own design for any other use or occasion. The tag starts as a blank canvas, what you put on it is entirely your choice... you aren't obligated to put official Military Dog Tag info on it. You also get to see a preview of what your finished Dog Tag set will look like before you even order it! We can even laser engrave your custom logo or image!

All orders are shipped within 1 business day and are usually delivered within 1 week (in North America). If you need any assistance creating or ordering your please contact us directly, we are here to help!
See what our other satisfied customers have been saying!