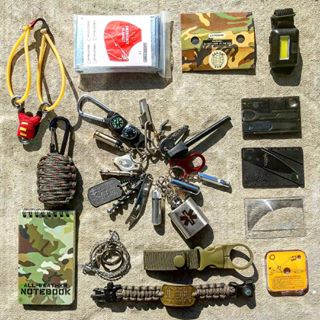 These EDC (Every-Day-Carry) and survival gadgets are small enough for your pocket or to wear on your chains alongside your customized Survival Dog Tags. Build your own Every-Day-Carry survival keychain, or checkout our Dogtag Pillbox to build your own mini survival kit!

Items marked with a

can be added as a FREE bonus gift with the purchase of 2 or more Dogtag sets.
Ready to browse? Jump to a EDC Survival Gear subcategory:
What good is a can of beans, a bottle wine, or a stubbie of beer if you can't open it? These mini EDC can and bottle openers will always be at your disposal on your keychain.
Don't get caught in the dark without an emergency flashlight. Yes, there's on one your phone, but when its battery dies you'll be grateful you have a long-lasting backup LED light on your keychain!
Having multiple effective ways to signal for help can make all the difference in a survival situation where outside help is warranted. Distress signals can take many forms, from high-tech modern electronics to the primitive techniques and materials that our ancestors would have used. Signaling is one of the most under-practiced and under-emphasized skill sets in our survival arsenal.
There's more than one way to start a fire, and when your matches are soaked in water these alternative emergency firestarting methods may save your life!