Be proud of the soldier in your family!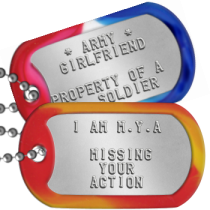 Whether you're an Army Wife or a Military Brat, show your support with a set a of military style dogtags. Put the text SUPPORT OUR TROOPS on one of your dogtags and get a 25% discount! We are the only dogtag manufacturer who offer the ★ ARMY ★ star symbol!
Military Wife Dogtag set includes:
See your Military Wife Dogtag before ordering with the online dogtag generator!
Click on a tag idea below to use as a template for creating your own!
Check out our other military dogtag example templates.