Complete your MilSim paintball or airsoft BDU with a set of military style dogtags.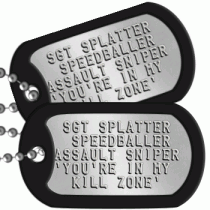 Show your passion and team spirit with your own personalized dog tags!
MilSim Dogtags set includes:
See your MilSim Dogtags before ordering with the online dogtag generator!
Click on a tag idea below to use as a template for creating your own!