Make your pet the Alpha-dog in the neighborhood with a quality mil-spec dogtag!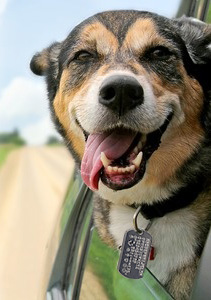 Far more durable than plastic & aluminum pet tags that fade, crack, & and look old before their time our stainless steel embossed tags will last your dog a lifetime!
We offer dogtags that can dangle from the collar or be flush-mounted with 2 rivets directly on to it. They are also ideal for labelling your dog's cage or travel carrier.
Pet ID Tags set includes:
See and customize your Pet ID Tags before ordering with the online dogtag generator! Not sure what to put on your dogtags? We have lots of ideas to get you started below:
Collar Hang Dogtags
Other people's Collar Hang Dogtags posted on Instagram:
Checkout our other items related to Collar Hang Dogtags: