Make your pet the Alpha-dog in the neighborhood with a quality mil-spec dogtag!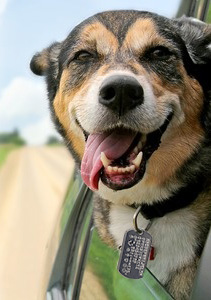 Far more durable than plastic & aluminum pet tags that fade, crack, & and look old before their time our stainless steel embossed tags will last your dog a lifetime!
Pet ID Tags set includes:
See and customize your Pet ID Tags before ordering with the online dogtag generator! Not sure what to put on your dogtags? We have lots of ideas to get you started, just click below:
Collar Hang Dogtags
Other people's Collar Hang Dogtags posted on Instagram:
Collar Rivet Dogtags
Other people's Collar Rivet Dogtags posted on Instagram:
Mini Dogtags
Runaway Dog Tag
Other people's Runaway Dog Tag posted on Instagram:
Hunting Dog Dogtags
Other people's Hunting Dog Dogtags posted on Instagram:
'Single's Dog Bait' Tag
Dogtag Gift Certificate
More Info About Pet ID Tags
Please note we recommend that you do NOT order silencers if the dogtags will be used on your pet. The silicone rubber will eventually wear down over time and may tear, this is especially likely when used on a dog's collar as they are exposed to much more wear and tear. Furthermore, your pet may try to chew off and eat the silencer which may pose a health hazard. Other domestic animals need I.D. too! Horse halters, llamas, goats, even ferrets! Dogtags are also ideal for attaching to your pet's cage or kennel!
About our Dog Tags
At MyDogtag.com, our goal is to provide the best quality dog tags and service for our customers. Our mil-spec dog tags are stainless steel military specification, and we offer a variety of materials and colors to choose from. Because our dog tags are completely customizable, you can create any type of dog tag that you need! Not looking for Pet ID Tags? No problem! We make dogtags for all sorts of reasons and occasions such as Military Dogtags, Relationship Tags, Pet ID Tags, whatever you want to put on a dog tag, we can make it! All Pet ID Tags orders are shipped within 1 business day. If you place your order before 10:00 EST, we can often ship your dog tags on the same day. Most of our customers receive their orders within one week. If you need any assistance creating or ordering your Pet ID Tags, please contact us. We would love to help!