Dogtags make great bridal souvenirs and wedding favors, especially for military themed weddings!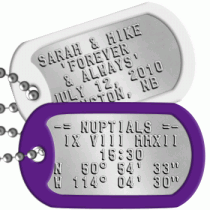 Perfect for recognizing and thanking members of your groomsmen bridal party, or as wedding favors for each of your guests.
Wedding Dogtags set includes:
See your Wedding Dogtags before ordering with the online dogtag generator!
Click on a tag idea below to use as a template for creating your own!