Customize to Buy your Dollar Dog Tag now!
More Info About HipHop Bling Tags
Yo dese ain't got no ice, but dey be tight, get a killa dawgtag fo yo' swag.
Military style gangsta hip hop bling dogtags.
About Dog Tags from MyDogtag.com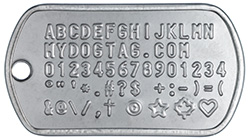 At MyDogtag.com, we provide premium quality mil-spec Dog Tags that will last a lifetime. They are completely customizable so you can easily create Dog Tags as replicas of military issue originals or for any other use or occasion; A Dog Tag starts as a blank canvas, whatever you want to put on it we can make it, and you get to see a preview of what your finished Dog Tag set will look like before we actually make it! We can even laser engrave your custom logo or image!

All orders are shipped within 1 business day and are usually delivered within 1 week (in North America). If you need any assistance creating or ordering your Dollar Dog Tag please contact us directly, we are here to help!