Customize to Buy your Braille Sign now!
More About Braille Dog Tags & Signs
Our Braille signs & tags are completely customizable to meet your specific requirements... at a fraction of the cost of other braille sign manufacturers. Choose from a selection of different sized dogtags, plaques, and materials to make your own custom braille tag!
If you are vision-impaired we can assist you with placing an order for a braille Dog Tag or Guide-Dog Tag over the phone, please call us at 1-888-364-8244.
Our stainless steel, military grade dogtags are ideal for braille as they won't wear down as quickly as aluminum or plastic. Made by machine (not handmade) they are highly accurate and legible and are similar to ADA braille standards.
On a standard sized dogtag you can fit up to 2 lines of braille cells up to 6 cells per line. The bottom line can contain regular text. If you need more space, you can choose a larger sized nameplate.
Need help in creating your braille message? Read Braille Basics. With our Braille Dogtag Generator you can create any 6 dot Braille cell system so that you can incorporate Grade 1, Grade 2, or any Braille contraction that you require.
Read a compreshensive review of our braille Dog Tags by a visually-impaired customer.
Braille Characters
Using our pre-made Braille keypad buttons you can quickly create basic Braille letters, numbers and punctuation. More advanced users can use our custom Braille-cell creator to make any 6 dot combination of Grade 1, Grade 2, or any Braille contraction that you require including all of the following dot combinations:

⠁ ⠂⠃⠄⠅⠆⠇⠈⠉⠊⠋⠌⠍⠎⠏⠐⠑⠒⠓⠔⠕⠖⠗⠘⠙⠚⠛⠜⠝⠞⠟
⠡ ⠢⠣⠤⠥⠦⠧⠨⠩⠪⠫⠬⠭⠮⠯⠰⠱⠲⠳⠴⠵⠶⠷⠸⠹⠺⠻⠼⠽⠾⠿
What is Braille?
Braille is a system that enables blind and visually impaired people to read and write through touch. A cell is made up of six dots that fit under the fingertips, arranged in two columns of three dots each. Each cell represents a letter, a word, a combination of letters, a numeral or a punctuation mark. See the Braille specification guide from BrailleAuthority.org. for more specifications.
About Dog Tags from MyDogtag.com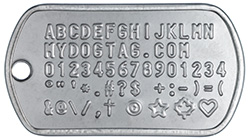 At MyDogtag.com, we provide premium quality Personalized Military Dog Tags for sale that will last a lifetime. They are completely customizable so you can easily order G.I. replica Dog Tags as per military specs, or use your own design for any other use or occasion. The tag starts as a blank canvas, what you put on it is entirely your choice... you aren't obligated to put official Military Dog Tag info on it. You also get to see a preview of what your finished Dog Tag set will look like before you even order it! We can even laser engrave your custom logo or image!

All orders are shipped within 1 business day and are usually delivered within 1 week (in North America). If you need any assistance creating or ordering your Braille Sign please contact us directly, we are here to help!
See what our other satisfied customers have been saying!