Customize to Buy your Law Enforcement Dog Tags now!
More About First Responder Dog Tags
Dog Tags worn by Law Enforcment, EMS, Fire, and other first responders can provide important ID and medical information in case injured in the line of duty.
Dog Tags are ideal for Police Officers, SWAT Teams, Firefighters, Paramedics, EMTs, Search and Rescue, Disaster Response Teams, Public Works, and other trained professionals.
Get matching sets for everyone on your team, Dog Tags instill a sense of pride and comradery amongst colleagues serving in the same precinct or firehall.
We offer discounts for first responders, please contact us for details
About Dog Tags from MyDogtag.com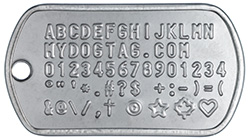 At MyDogtag.com, we provide premium quality Personalized Military Dog Tags for sale that will last a lifetime. They are completely customizable so you can easily order G.I. replica Dog Tags as per military specs, or use your own design for any other use or occasion. The tag starts as a blank canvas, what you put on it is entirely your choice... you aren't obligated to put official Military Dog Tag info on it. You also get to see a preview of what your finished Dog Tag set will look like before you even order it! We can even laser engrave your custom logo or image!

All orders are shipped within 1 business day and are usually delivered within 1 week (in North America). If you need any assistance creating or ordering your Law Enforcement Dog Tags please contact us directly, we are here to help!
See what our other satisfied customers have been saying!