We also offer these Army Motto Dog Tags related products:
Customize to Buy your Army Motto Dog Tags now!
More Info About Military Motto Dog Tags
Military slogan Dog Tags make a great add-on to official issue military identification tags.
Many units of the United States Armed Forces have distinctive mottoes which reflect and reinforce each unit's values and traditions.
A custom Dog Tag with your favorite military slogan, quote, motto, or saying instills a sense of pride and comradery.
Add a Branch Logo Pendant to Your Dog Tags
We sell a lot more than just custom Dog Tags. When you place your Dog Tag order, consider adding a pendant that adds extra meaning to the message on your tags. You might add a pendant that represents your favorite branch of the armed forces or your Religion.
About Dog Tags from MyDogtag.com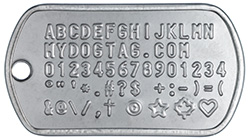 At MyDogtag.com, we provide premium quality mil-spec Dog Tags that will last a lifetime. They are completely customizable so you can easily create Dog Tags as replicas of military issue originals or for any other use or occasion; A Dog Tag starts as a blank canvas, whatever you want to put on it we can make it, and you get to see a preview of what your finished Dog Tag set will look like before we actually make it! We can even laser engrave your custom logo or image!

All orders are shipped within 1 business day and are usually delivered within 1 week (in North America). If you need any assistance creating or ordering your Army Motto Dog Tags please contact us directly, we are here to help!