Customize to Buy your Queer Dog Tags now!
More About Naughty Dog Tags
Personalize your toys, accessories, (and yourself) in the bedroom with kinky Military style dogtags.
Erotic Dog Tag Fiction
"Do you want to be a good girl, or a bad girl tonight?" Your Sir inquires, holding out two stainless steel dogtags, the embossed lettering of each catching the faint, flickering light of a candle. From your place on the hardwood floor, kneeling before his intimidating silhouette, you consider the enticing possibilities of each roleplay scenario. A subtle smile crosses your lips as you whisper your choice for the night. Sir places the discarded dogtag labeled "Good Girl" on the bedside table, bending to fasten the remaining steel label to your leather collar. You feel the muscles in between your legs suddenly come alive as Sir stands before you, reciting the customized text written on your personalized dogtag: "Bad Girl." And that's just the beginning...
Body Safe
Our 304 stainless steel military-grade dogtags with body safe silicone rings can be easily fastened to collars, cuffs, ring piercings, clamps, harnesses, restraints, as well as riveted to leather straps and a variety of garments for your fetish and roleplay desires. And the best part? You can now enhance your BDSM scenarios by customizing your dogtags with whatever text your kinky imagination can dream up.
Make your own custom set of rubber, leather and steel for your kinky bedroom activities... perfect for BDSM or pup & pet play, etc. No two orders have to be the same, and you can write any type of message that you want, We do NOT censor!
About Dog Tags from MyDogtag.com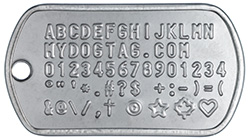 At MyDogtag.com, we provide premium quality Personalized Military Dog Tags for sale that will last a lifetime. They are completely customizable so you can easily order G.I. replica Dog Tags as per military specs, or use your own design for any other use or occasion. The tag starts as a blank canvas, what you put on it is entirely your choice... you aren't obligated to put official Military Dog Tag info on it. You also get to see a preview of what your finished Dog Tag set will look like before you even order it! We can even laser engrave your custom logo or image!

All orders are shipped within 1 business day and are usually delivered within 1 week (in North America). If you need any assistance creating or ordering your Queer Dog Tags please contact us directly, we are here to help!
See what our other satisfied customers have been saying!