What can you put on your Dog Tags? The words you choose are only limited by your needs and imagination!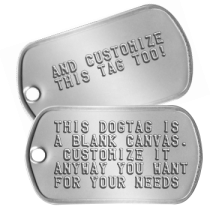 Make your own custom Dog tag sets choosing from a wide range of options. Need some help on deciding what to put on your Dog Tags? Get started by trying our Dog Tags Ideas Matrix, view our complete Dog Tags Ideas Index, or directly choose from our vast selection of Dog Tag styles to spark an idea!
If you don't need any help with what to put on your dog tags you can jump directly to designing it and choosing from a wide variety of options without a template.
See what our satisfied customers have been saying about our Personalized Dog Tags!
Personalized Dog Tags set includes:
A Dog Tag is the informal name for the identification tags worn by military personnel, because of their resemblance to actual dog tags. The tag is primarily used for the identification of dead and wounded along with providing essential basic medical information for the treatment of the latter such as blood type and history of inoculations. In the event the member has a medical condition that requires special attention, an additional red tag with the pertinent information is issued and worn with the Dog Tags. Wearing of the tag is required at all times by soldiers in the field. In the U.S., two identical tags are issued. One is worn on a long chain around the neck; the second on a much smaller chain attached to the first chain. In the event the wearer is killed the second tag is collected and the first remains with the body.
Cited from Wikipedia article on Dogtags
Whether you are buying custom dog tags to use as pet tags, nameplates, id tags, or as military dog tags you can fully customize your order. Dog tags are typically sold as a set with two tags, fasteners, and silencers and you can personalize each aspect of your order how you like. Let's take a quick look at the main things you can personalize:
Tag Style
Font Choices
The Text
Dog Tag Silencers
Ball Chains and Fasteners
Our bestselling standard US military issued dog tag is made of stainless steel and has a matte finish to it. All of our tag stock are high quality metal with most being stainless steel which is an excellent choice for durability and resistance to rust. You can pick from many different styles like: ,
Mil-Spec matte and shiny finish
WWII/Korea/Vietnam Notched Tags
Black Electroplated
Solid Brass
Larger sized Nameplated
Mini and Jumbo tags
Bone shaped tags for pets
Laser burnished Background Image Tags
Medical Symbol Tags
The tag style that you pick will determine which fonts are available to use with that tag.:
Mil-Spec Embossed - Where the letters are raised above the face of the tags, like on a credit card. It is very durable and easy to read.
Mil-Spec Debossed - An older style of font where the text is pressed down into the tag. Use for WWII, Korea War, and Vietnam War era tags.
Large Embossed - A larger version of embossed, makes a great choice for reading tags at a distance.
Braille - We are the only Dog Tag manufacturer to offer Braille dots on a tag which can be combined with regular embossed letters. There are easy to use buttons to add letters and numbers in Braille and you can also create your own 6 dot cell
Laser Engraving - Allows for more text to be squeezed onto tag on both sides.
This is where you can really personalize your dog tags with the information you want it to have. With embossed font you can use letters from A to Z, numbers from 0 to 9, lots of punctuation and a selection of special icons. The number of lines and how many characters you can use varies based on the tag style you pick, and can be enhances using the Advanced Formatting Options.
Silencers are a great way to personalize your tags. There are many colors patterns to choose from including solid colors, multi-colored, glow in the dark, and camo patterns that match your service branch or your style. Silencers come in silicone (more stretchy) or latex (more durable) to best fit your needs.
Military dog tags typically come with two stainless steel ball chains, one long and one short. For each of your tags you can switch these chains and choose from chains of different metallic finishes, colors, or leather cords in both lengths. You can also pick a different type of fastener for how you want to use your tags beyond being a dog tag necklace. Use split keyrings to attach your custom pet id tag to their dog collar or to add a name tag to your key chains. Rivets or screws to attach nameplates to equipment. Be sure to check out the other options for more ideas.
Personalize your Personalized Dog Tags and see a preview of what they will look like before ordering. Not sure how to design your tags? Use one of these Personalized Dog Tags layouts or suggestions to get started:
More About Personalized Dog Tags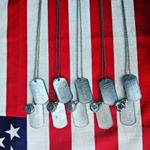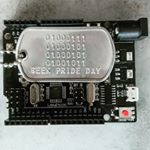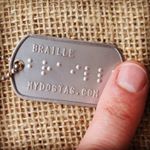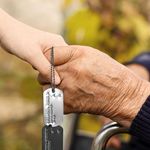 Lost Dogtags
Are you a veteran who lost his Dog Tags years ago? We can make you a new set that look almost identical to your originals depending on when you served. We also offer a Veteran discount!
Military Family Dogtags
Is one of your relatives in the military? Support your soldier with a Military Family Dogtag.
About Dog Tags from MyDogtag.com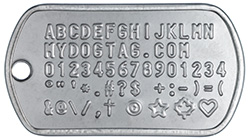 At MyDogtag.com, we provide premium quality Personalized Military Dog Tags for sale that will last a lifetime. They are completely customizable so you can easily order G.I. replica Dog Tags as per military specs, or use your own design for any other use or occasion. The tag starts as a blank canvas, what you put on it is entirely your choice... you aren't obligated to put official Military Dog Tag info on it. You also get to see a preview of what your finished Dog Tag set will look like before you even order it! We can even laser engrave your custom logo or image!

All orders are shipped within 1 business day and are usually delivered within 1 week (in North America). If you need any assistance creating or ordering your Personalized Dog Tags please contact us directly, we are here to help!
See what our other satisfied customers have been saying!