Customize to Buy your Mothers Day Dog Tags now!
More About Special Occasion Tags
Celebrate special times of the year with custom Dogtags.
What better way to celebrate and memorialize special occasions, events, and holidays than with customizable tags with your own special message and date. Anniversaries, birthdays, Mother's Day, Father's Day, Christmas, New Years, Eid, etc.
Giving Dogtags as a Gift
We know how hard it can be to shop for a gift for your wife or girlfriend, husband or boyfriend, or someone else that is special to you. There are so many occasions throughout the year when you need a gift -- Valentine's Day, birthday, anniversary, Sweetest Day, Christmas, and Hanukkah, just to name a few. Why not give your loved one something meaningful that he or she can wear all the time to reflect your love and your relationship? Our Dog Tag sets make a great gift for anyone important in your life, even including your mother, father, and children. Customize a set of Dog Tags with your own message of love. Give your loved one both Dog Tags or keep one for yourself so you each have part of the set while you are apart.
All our Dog Tags are available to purchase with gift packaging so your personalized Dog Tags are ready to present to your loved one. Consider upgrading to a mini hinged tin box that can be laser engraved with an additional custom message to add an extra special touch to your gift.
About Dog Tags from MyDogtag.com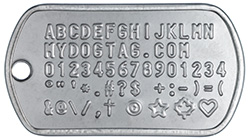 At MyDogtag.com, we provide premium quality Personalized Military Dog Tags for sale that will last a lifetime. They are completely customizable so you can easily order G.I. replica Dog Tags as per military specs, or use your own design for any other use or occasion. The tag starts as a blank canvas, what you put on it is entirely your choice... you aren't obligated to put official Military Dog Tag info on it. You also get to see a preview of what your finished Dog Tag set will look like before you even order it! We can even laser engrave your custom logo or image!

All orders are shipped within 1 business day and are usually delivered within 1 week (in North America). If you need any assistance creating or ordering your Mothers Day Dog Tags please contact us directly, we are here to help!
See what our other satisfied customers have been saying!