Customize to Buy your Silver Medal Medallion now!
More Info About Sports Dog Tags
Get ready for the playoffs and build your team spirit with customized Dog Tags for all your players with their name, number and team colors!
They make great keepsakes for year end wind-ups and tournament celebrations, or as Winner Nameplates to attach to annual trophies. Dog Tags also make great low-cost customized award medals for competition winners: Gold, Silver, and Bronze! Your contest participants, winners, and MVP's will love wearing these award dogtags. Ideal for sports leagues, birthday party events, and company picnics.
We also offer bulk discounts when you need tags for lots of people!
About Dog Tags from MyDogtag.com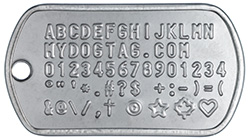 At MyDogtag.com, we provide premium quality mil-spec Dog Tags that will last a lifetime. They are completely customizable so you can easily create Dog Tags as replicas of military issue originals or for any other use or occasion; A Dog Tag starts as a blank canvas, whatever you want to put on it we can make it, and you get to see a preview of what your finished Dog Tag set will look like before we actually make it! We can even laser engrave your custom logo or image!

All orders are shipped within 1 business day and are usually delivered within 1 week (in North America). If you need any assistance creating or ordering your Silver Medal Medallion please contact us directly, we are here to help!