Show your devotion to Christ with a set of God Tags
Personalize your Christian Dog Tags and see a preview of what they will look like before ordering. Not sure how to design your tags? Use one of these Christian Dog Tags layouts or suggestions to get started:
Christian Dog Tags Accessories
Other products related to Christian Dog Tags:
More About Christian Dog Tags
Christian Gift for Him
We know that the men in your life can be difficult to shop for, especially when you need a gift for a birthday or other holiday or special occasion. If you are looking for a unique, inspirational religious gift for him, consider ordering from MyDogtag.com. We offer much more than just traditional Dog Tags. For example, consider ordering your rugged Christian outdoorsman a paracord survival bracelet that includes a personal message of faith on the Dog Tag. Another great gift idea for him is to customize a leather cuff bracelet with a Christian message.
Give Christian Dog Tags as a Gift
Our Dog Tag sets make a great gifts for any Christian family and friends. All of our Dog Tags are available to purchase with gift packaging, which makes them perfect for religious occasions like Easter, First Communion, Confirmation, Christmas, and more. For an extra special touch, design and order a tin box with a custom message inside the lid. At MyDogtag.com, we also understand that religion can be deeply personal, so if you want someone else to be able to create his or her own Dog Tags with their own personal religious message, we also sell gift certificates. This way, your gift recipient can design Christian Dog Tags that fit his or her own taste and style.
Add a Pendant or Charm
At MyDogtag.com, we sell a lot more than just custom Dog Tags. We have a wide variety of charms including various faith-related pendants that you can add to your Dog Tag order. Some of our cross pendants include a heavy stainless steel cross, a battle axe cross, and a crucifix. These look great when worn alone or with a set of Dog Tags. We also offer a mini keychain bible. The mini bible opens with a plastic latch and inside it has 170 micro-text pages. The keychain also includes a mini plastic magnifying glass so you can read the bible text.
About Dog Tags from MyDogtag.com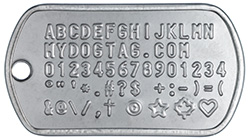 At MyDogtag.com, we provide premium quality Personalized Military Dog Tags for sale that will last a lifetime. They are completely customizable so you can easily order G.I. replica Dog Tags as per military specs, or use your own design for any other use or occasion. The tag starts as a blank canvas, what you put on it is entirely your choice... you aren't obligated to put official Military Dog Tag info on it. You also get to see a preview of what your finished Dog Tag set will look like before you even order it! We can even laser engrave your custom logo or image!

All orders are shipped within 1 business day and are usually delivered within 1 week (in North America). If you need any assistance creating or ordering your Christian Dog Tags please contact us directly, we are here to help!
See what our other satisfied customers have been saying!