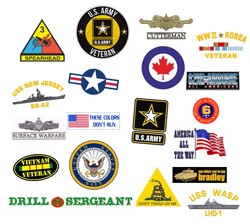 Show your support for the military with decal stickers. Made of quality polyester all decals are weather and UV resistant designed for adhering to glass and metal. All dimensions are from edge-to-edge of the decal backing.
Ready to browse? Jump to a Military Decals subcategory:
Support your favorite military branch: Army, Marines, Navy, Air Force, Coast Guard.
Display your service as a US Military Veteran or in memory of a loved one who served!
More Info About Military Decals
Perfect for cars, motorcycles, helmets, boats, trucks, golfcarts, toolboxes, mailboxes, lockers, appliances, smart-phones, laptops, tablets, etc.
Dog Tag Decals
We also carry assorted dog tag shaped stickers for the back of your Dog Tags.