Celebrate special times of the year with custom Dogtags.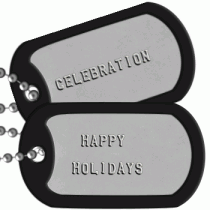 What better way to celebrate and memorialize special occasions and holidays than with customizable tags with your own special message and date. Anniversaries, birthdays, Mother's Day, Father's Day, Christmas, New Years, Eid, etc.
Holiday Dogtags set includes:
See your Holiday Dogtags before ordering with the online dogtag generator!
Click on a tag idea below to use as a template for creating your own!