Make your own leather statement cuff bracelets with a custom dogtag, only $14.99!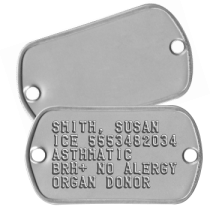 Our genuine black leather cuff bracelets are 9" x 1.25" x 2mm thick and snap adjustable to a wrist circumference of 7.5" or 8". Comes with your custom dogtag pre-riveted onto the bracelet. Unlike most other statement cuff bracelets, ours can be customized by you with any text you want, get inspired with some of our sample dogtag ideas.
See your Leather Cuff Dogtag before ordering with the online dogtag generator!
Click on a tag idea below to use as a template for creating your own!