First responders, medics, and doctors are trained to look for a Medical Information tag to alert them of your chronic health conditions in the event that you are unconscious.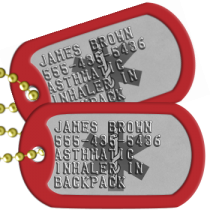 A brief and easy to read description summarizing a few of your key medical facts can be invaluable to ensure that you receive proper treatment. Special medical identification style dogtags with either an embossed Caduceus "Staff of Hermes" symbol (two snakes winding around a winged staff) or "Rod of Asclepius" symbol (one snake winding around a rod) are fully customizable and are designed to last a lifetime!
Medical ID Tags set includes:
See your Medical ID Tags before ordering with the online dogtag generator!
Click on a tag idea below to use as a template for creating your own!
Although there is no defined format, we suggest that you consider using some of the above medical advice on your tags. Note that no guarantee or warranty of any medical or emergency services is expressed or implied.