First responders, medics, and doctors are trained to look for a Medical Information ID 'Med-ID' tag to alert them of your chronic health conditions in the event that you are unconscious.
Personalize your Medical ID Tags and see a preview of what they will look like before ordering. Not sure how to design your tags? Use one of these Medical ID Tags layouts or suggestions to get started:
Medical ID Tags Accessories
Other products related to Medical ID Tags:
More About Medical ID Tags
Medical ID Format
Although there is no defined format, we suggest that you consider using some of the above medical advice on your tags. Note that no guarantee or warranty of any medical or emergency services is expressed or implied.
Medical ID Necklace vs Bracelet
You do not have to rely on only a medical alert bracelet to convey important medical information as first responders are also trained to look for a medical alert necklace. We offer you the choice of wearing your medical tag however you prefer! Choose from a ballchain necklace, keyring, wire cable, even a leather cuff bracelet, or paracord survival bracelet. Our fully custom medical ID Dog Tags and fasteners give you the flexibility to create a medical alert tag that works for your needs.
About Dog Tags from MyDogtag.com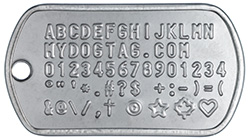 At MyDogtag.com, we provide premium quality mil-spec Dog Tags that will last a lifetime. They are completely customizable so you can easily create Dog Tags as replicas of military issue originals or for any other use or occasion; A Dog Tag starts as a blank canvas, whatever you want to put on it we can make it, and you get to see a preview of what your finished Dog Tag set will look like before we actually make it! We can even laser engrave your custom logo or image!

All orders are shipped within 1 business day and are usually delivered within 1 week (in North America). If you need any assistance creating or ordering your Medical ID Tags please contact us directly, we are here to help!