Make a statement! Show off your skills, hobbies, affiliation or profession.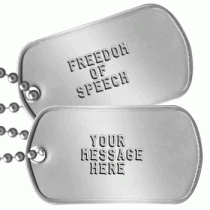 Dog tags aren't just for soldiers... Dogtags make a great gift for men, women and kids! Protect your children and loved ones - dogtags are a trendy ID system that they will love to wear. Add an emegency (I.C.E.) phone number or email address so they will always know how to reach you. Keep your favourite poem, expression, bible verse, or sentimental tag worn in memory of a loved one close to your heart.
Message Dogtags set includes:
See your Message Dogtags before ordering with the online dogtag generator!
Click on a tag idea below to use as a template for creating your own!
Canada Patriotic Dogtags

Show your patriotic spirit with a set of Candian dogtags with your favorite patriotic expression! We are the only dogtag manufacturer to emboss the Maple Leaf character and have red and white silencers!



Group Memember Dogtags

Are you a member of a group, club, team, scouts, fraternity, secret society?...Dogtags make a great alternative to membership cards.



Earth Dogtags

Saving the planet one dogtag at a time...



Other eco-warrior used these ideas:
Birth Memento Dogtags

Commemorate the birth of the new addition to your family! Perfect for parent's keychains, baby books and scrap books.



Spiritual Inspiration Dogtags

Keep that special verse from the bible, torah, or Qur'an close to your heart at all times

Other people used these ideas:
Geolocation Dogtags

With the ° (degrees), ' (minutes), and '' (seconds) symbols you can put latitude and longitude co-ordinates on your dogtag. Perfect for remembering where you hid your buried treasure or geocache. Also makes a great souvenir reminder for that special location like your wedding, proposal, birthday, bachelor night, etc.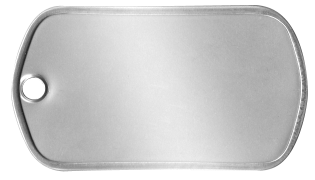 customize now
$
15.00
Dogtag Gift Certificate

Need a unique low-cost gift in a hurry? Want to let your gift recipient customize his own Dogtags? A Gift Certificate is an ideal option!