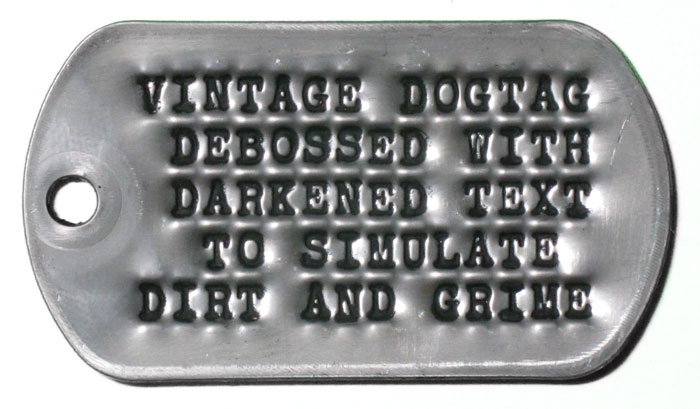 Replicate the darkened letters on vintage debossed Dog Tags from WWII, Korea, and Vietnam war era using black shoe polish!
Sometimes the letters on vintage debossed Dog Tags (from WWII, Korea, Vietnam, etc) would darken over time as the result of an accumulation of dirt and grime. This effect can be easily replicated on newly made tags using black shoe polish:
Rub in good quality (not from the dollar store) waxy black shoe polish across the face of the debossed Dog Tag with your finger or cloth. Make sure to get it into all of the indentations.
Immediately wipe the surface of the tag clean with your bare finger, the alcohols in the polish will evaporate quickly, so do not wait for it to dry. Using a clean finger rather than a cloth tends to only remove the surface polish, leaving the polish in the letter indentations behind. You may have to do a few passes with other clean fingers to remove all the residual polish from the surface.


Over time the polish will dry and harden and will not be easily removed. Mineral spirits and a tooth brush can be used to remove the polish if desired in the future.
If you want to keep your fingers clean we offer this as an add-on service (for Debossed Dog Tags only).