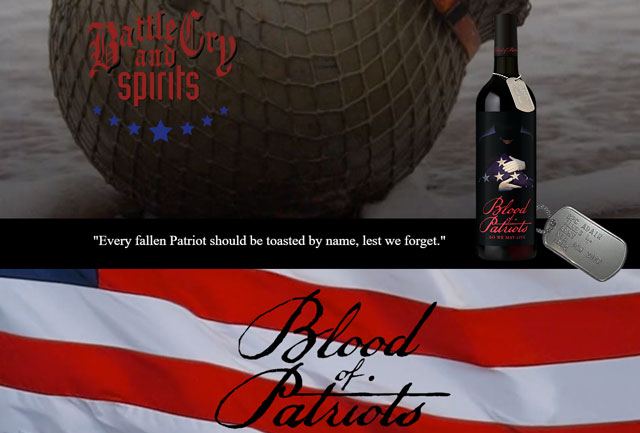 Blood of Patriots is a beautifully blended red wine made as a sacrament to our fallen heroes.  Each bottle comes with its own authentic Dog Tag, donated by MyDogtag.com, embossed with the name of a fallen hero so that we may all toast a life lost.
Toast The Fallen Initiative
Since the beginning of our Nation's founding, over 2 million Americans have lost their lives in service to our freedom. Yet, unless we have heard their name in a movie, read it in a book, or know them personally, most of us couldn't even name five. At Battle Cry and Spirits, along with Heringer Estates Vineyard and MyDogTag.com, we are determined to honor each fallen Patriot that has sacrificed the ultimate gift. It is our mission to toast every person by name that has died for our freedom since 1775.
Every bottle of Blood of Patriots wine comes with a Dog Tag displaying the information of a hero who died for your freedom. We ask that while you enjoy our wine, you take a moment to toast to them and be thankful for the good lives we have, because of them.
Share a picture of your toast, and add the hashtag #ToastTheFallen so others may honor them as well. 
With each bottle purchased, we honor them by sharing our proceeds with other missions that help our veterans find hope, meaning and purpose. Your purchase will help fund a wide variety of much needed support for our vets.
Thank you for your support in joining our Toast The Fallen Initiative.
MyDogtag.com is proud to support the Blood of Patriots Toast The Fallen Initiative by donating a Dog Tag for each bottle of wine embossed with the name of a warfighter who has fallen in global or regional conflicts involving the United States as listed on the Defense Casualty Analysis System.

See more about Giving Back to Veterans.