Certain jurisdictions such as Florida, Louisiana, and Mississippi require ID tags to be attached to recreational saltwater crab pots and fishing traps to identify the owner.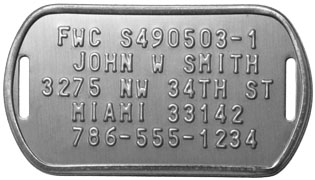 Get your set of up to 5 FWC, 10 LDWF, or 6 MDMR serialized rust-proof customized Crab Trap tags with your fishing ID number and personal information! They are slotted on both sides and include UV resistant nylon Zip-Ties for firmly attaching to your trap.
See what our satisfied customers have been saying about our Outdoorsman Dog Tags!
Crab Trap ID Tags set includes:
5 x Military grade double-slotted Dog Tags
10 x UV resistant Nylon Zip Ties
Yes, our tags are made of mil-spec 304 stainless steel designed to resist corrosion in salt water. The black UV resistant Nylon zip ties which attached the tags to the trap will not degrade in the sun or saltwater. See our irreverent video on the
corrosion resistance of various types of Dog Tag metals
Personalize your Crab Trap ID Tags and see a preview of what they will look like before ordering. Not sure how to design your tags? Use one of these Crab Trap ID Tags layouts or suggestions to get started:
Outdoorsman Dog Tags Accessories
Other products related to Outdoorsman Dog Tags: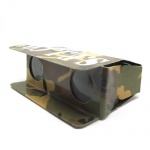 Foldable Binoculars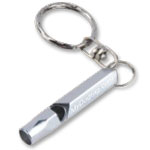 Howler Whistle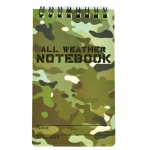 Waterproof Tactical Notebook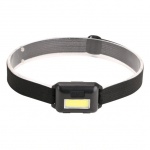 Mini LED Headlamp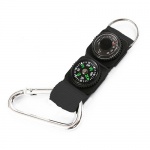 Thermometer/Compass Clip
About Dog Tags from MyDogtag.com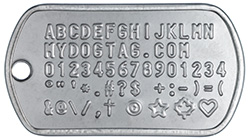 At MyDogtag.com, we provide premium quality Personalized Military Dog Tags for sale that will last a lifetime. They are completely customizable so you can easily order G.I. replica Dog Tags as per military specs, or use your own design for any other use or occasion. The tag starts as a blank canvas, what you put on it is entirely your choice... you aren't obligated to put official Military Dog Tag info on it. You also get to see a preview of what your finished Dog Tag set will look like before you even order it! We can even laser engrave your custom logo or image!

All orders are shipped within 1 business day and are usually delivered within 1 week (in North America). If you need any assistance creating or ordering your Crab Trap ID Tags please contact us directly, we are here to help!
See what our other satisfied customers have been saying!