Get ready for the playoffs and build your team spirit with customized dogtags for all your players with their name, number and team colors!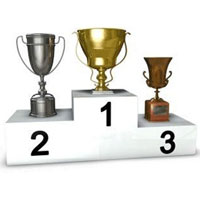 They make great keepsakes for year end wind-ups and tournament celebrations. Dogtags also make great low-cost customized award medals for competition winners: Gold, Silver, and Bronze! Your contest participants, winners, and MVP's will love wearing these award dogtags. Ideal for sports leagues, birthday party events, and company picnics.
Sports Team Dogtags set includes:
See your Sports Team Dogtags before ordering with the online dogtag generator!
Click on a tag idea below to use as a template for creating your own!