Authentic modern and historic US military style Dog Tags that will exceed your expectations… for Soldiers, Marines, Sailors, Airmen, Veterans, and civilian military enthusiasts.
Personalize your Military Dog Tags and see a preview of what they will look like before ordering. Not sure how to design your tags? Use one of these Military Dog Tags layouts or suggestions to get started:
More About Military Dog Tags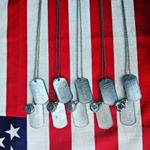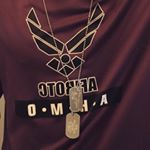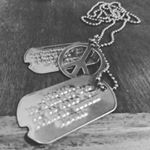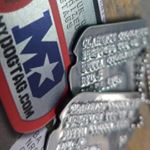 Lost Dogtags
Are you a veteran who lost his Dog Tags years ago? We can make you a new set that look almost identical to your originals depending on when you served. We also offer a Veteran discount!
Memorial Keepsakes
Recreations of personal historical Dog Tags from specific war eras make sentimental souvenir mementos to honor the memory of a loved one. Commemorate your grandfather, father, or other family members who served in the military with a recreation set of replica dogtags to match their originals lost-in-time.
Military Family Dogtags
Is one of your relatives in the military? Support your soldier with a Military Family Dogtag.
About Dog Tags from MyDogtag.com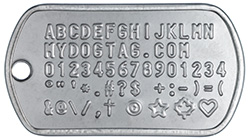 At MyDogtag.com, we provide premium quality mil-spec Dog Tags that will last a lifetime. They are completely customizable so you can easily create Dog Tags as replicas of military issue originals or for any other use or occasion; A Dog Tag starts as a blank canvas, whatever you want to put on it we can make it, and you get to see a preview of what your finished Dog Tag set will look like before we actually make it! We can even laser engrave your custom logo or image!

All orders are shipped within 1 business day and are usually delivered within 1 week (in North America). If you need any assistance creating or ordering your Military Dog Tags please contact us directly, we are here to help!