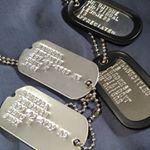 USMC Dog Tags (Vietnam War Era) Related Products
Vietnam War Era Dog Tags Accessories
Other items related to Vietnam War Era Dog Tags: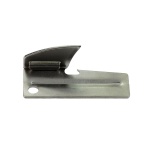 P-38 Can Opener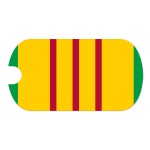 Vietnam Ribbon Tag Sticker
U.S. Military Dog Tags Accessories
Other items related to U.S. Military Dog Tags: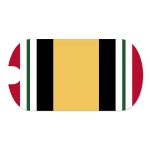 Iraq War Ribbon Tag Sticker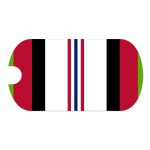 Afghanistan Ribbon Tag Sticker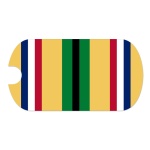 Desert Storm Ribbon Tag Sticker
More About USMC Dog Tags (Vietnam War Era)
The Vietnam War era was a time of change and Dog Tags were no exception.
During this period the notched Dog Tags of WWII and Korea were replaced a variation of the modern style still in use today.
Other gradual changes to Dog Tags between 1954 and 1974 included: replacing the army service number with Social Security Number, expanded religious designations, inclusion of blood Rh factor, removal of tetanus inoculation date, hole moving to the left side, and debossing with the rolled edge up instead of down.
Lost Dogtags
Are you a veteran who lost his Dog Tags years ago? We can make you a new set that look almost identical to your originals depending on when you served. We also offer a Veteran discount!
Memorial Keepsakes
Recreations of personal historical Dog Tags from specific war eras make sentimental souvenir mementos to honor the memory of a loved one.




Commemorate your grandfather, father, or other veteran family members who served in the military with a recreation set of replica Dog Tags to match their originals.
Military Family Dogtags
Is one of your relatives in the military? Support your soldier with a Military Family Dogtag.
Not to be used for impersonation!
Not only is Stolen Valor unethical and disrespecful to our service members and veterans, it IS illegal in most jurisdications to impersonate a member of the armed forces. Unlike Military ID Cards, dogtags are not a valid form of official military identification so it is not illegal per se to wear them. However lying about military service or trying to pass yourself of as a service member or vet by wearing a uniform or medals that were not earned is criminalized in some circumstances, especially if done with the goal of obtaining money or other kinds of tangible benefits. Under no circumstances should dog tags be worn with this intent.
Giving back to Veterans
MyDogTag.com supports our military and veteran community by actively sponsoring Military, Veteran, and P.T.S.D. charities and organizations with free Dog Tags, often in memory and support of deceased and injured veterans and their families.
U.S. Military Dog Tags Frequently Asked Questions
Does the military still issue Dog Tags?
Are these real military Dog Tags?
Why do soldiers have 2 Dog Tags?
Do soldiers have to wear Dog Tags?
Where can I find official specs for USA military Dog Tags?
Where can I find the official records to put on the Dog Tags?
Where can I research my relative's military records?
Were civilians ever issued Dog Tags?
About Dog Tags from MyDogtag.com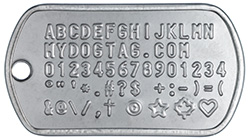 At MyDogtag.com, we provide premium quality Personalized Military Dog Tags for sale that will last a lifetime. They are completely customizable so you can easily order G.I. replica Dog Tags as per military specs, or use your own design for any other use or occasion. The tag starts as a blank canvas, what you put on it is entirely your choice... you aren't obligated to put official Military Dog Tag info on it. You also get to see a preview of what your finished Dog Tag set will look like before you even order it! We can even laser engrave your custom logo or image!

All orders are shipped within 1 business day and are usually delivered within 1 week (in North America). If you need any assistance creating or ordering your USMC Dog Tags (Vietnam War Era) please contact us directly, we are here to help!
See what our other satisfied customers have been saying!