Made exclusively with Delrin®, a highly durable, tough and lightweight Acetal polymer known for a well-rounded and warm attack. It is also notable for its very quick release, producing very little pick noise. Many regard Delrin® as a close resemblance of the fabled sound of the tortoiseshell picks. All picks come with a special grind texture that allows you to play longer without worrying about slippage. The gripping surface on it is particularly useful if your fingers sweat a lot. The picking point has a slick and smooth texture that never interferes with your playing. The shape of the pick greatly influences a guitar's tone: there are shapes for jazz solos, for acoustic strumming, for heavy-metal shredding, for classic rock, and for everything else you can do with a guitar.
Ready to browse? Jump to a Guitar Picks subcategory:
More Info About Guitar Picks
Free Guitar & Ukelele Lessons over Skype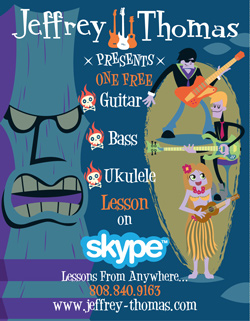 Learn to play guitar, bass, or ukelele from anywhere in the world over skype with lessons from www.jeffrey-thomas.com. Get a free dogtag from MyDogtag.com after your first lesson!
How to choose a perfect guitar pick
A lot of pick choice comes down to personal taste, and no-one can tell you what to like or dislike. It's well worth experimenting with a wide range of picks until you find the magic tone you've always been looking for: it will pay dividends when you love the sounds you make!
But don't just try out a bunch of picks aimlessly: take the time to think deeply about the tone you're hoping to achieve.