A tribute to our veterans and fallen heroes on Memorial Day, Veterans Day, Rememberance Day, and Armistice Day.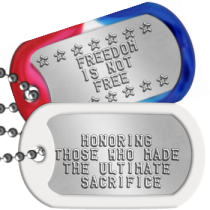 Put the text LEST WE FORGET on one of your dogtags and get a 25% discount!
Memorial Dogtags set includes:
See your Memorial Dogtags before ordering with the online dogtag generator!
Click on a tag idea below to use as a template for creating your own!
See our offcial military dogtag example templates.